Greetings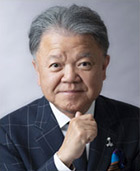 It is a great honor for me to be elected as the 18th Chair of the Board of Directors of the Oto-Rhino-Laryngological Society of Japan at the board meeting held on June 8, 2020 and to be given the responsibility of managing this society for two years.
 The Oto-Rhino-Laryngological Society of Japan was founded in 1893 and has a history of 127 years, the longest of any medical association with membership in the Japanese Medical Science Federation. It is an academic society related with 16 associated academic and research societies with over 11,000 members. This society is globally known as a group well-versed in otorhinolaryngology–head and neck surgery, as well as handling research, education, medical care, and welfare in the areas of otology, rhinology, laryngology, and head and neck tumors. The versatile nature of the field has given rise to many research associations, on which the 16 related academic and research societies are based, to fulfill the need for the enhancement of each specialization. Some of them have a long history of over 60 years, constituting an essential part of the Oto-Rhino-Laryngological Society of Japan over time.
 Against this background of continuing development, our clinical practice and surgical management for patients are seriously affected by the novel coronavirus 2019 (COVID-19) pandemic. While this is inevitable given the field's position handling upper respiratory ailments, the time has come to reform medical care systems in otorhinolaryngology. In addition, COVID-19 has significantly affected the operation of the Society and the holding of academic meetings. It is urgent that we review our clinical practices including outpatient care and surgery, society management, and academic meetings, leading to serious consideration about how to live "with COVID-19" and "after COVID-19."
 The new board members have raised the following topics as urgent issues to be addressed on a working basis: (1) enhancing collaboration and revitalization between academic and research societies; (2) building partnership with other fields of medicine and occupations; (3) expanding the medical care field as regards otorhinolaryngology, including rehabilitation; (4) reforming the style of medical care and the public insurance system; (5) building remote and online systems for medical care, education, and meetings ; (6) creating more attractive promotions of otorhinolaryngology for the public; (7) concentrating and centralizing otorhinolaryngological Big Data; and (8) initiating collaboration between the Society and the Japan Otorhinolaryngologists Association, which was established in April 2020.
 We all understand that many challenges have arisen due to the pandemic, but in such times, the most important thing is that the Society and its members act as one to move in the same direction. The history of otorhinolaryngology is one with that of overcoming infectious diseases. The challenges we face today also represent opportunities for reform. As Darwin said, "it is not the strongest of the species that survives, nor the most intelligent, but the one most responsive to change." I believe that survival in the time of COVID-19 will require rapid adaptation. The Oto-Rhino-Laryngology Society of Japan plans to enhance its collaboration with associated societies and the Japan Otorhinolaryngologists Association to overcome this obstacle. I appeal to all our members for even greater support and cooperation to create a bright future for otorhinolaryngology.
Dr. Shingo Murakami, MD, PhD
Chairman, Board of Directors
Japanese Society of Otorhinolaryngology-Head and Neck Surgery, Inc.
(July 2, 2020)
Last update: December 07, 2022